Image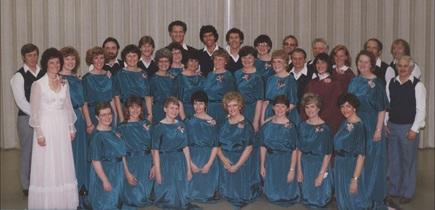 The concept of a community choir in the Alberni Valley in which the members would be auditioned was proposed in 1972 by local school teachers Dave Morgan and the late Jim Nolan.
The original choir had 16 members which over time has expanded to 30 plus auditioned SATB singers. Since its inception, Timbre! has had six musical directors - Jim Nolan (1972-1978), Ed Norman (1978-1981), Michael Oczko (1981 - 1983), Patricia Miller (1983-1996) and (1998-2016), Robert Cornejo (1996-1998). The choir's newest Musical Director is Rosemary Lindsay, who started conducting the choir in September, 2016.
Timbre! was honored to be an invited choir at the founding of the British Columbia Choral Federation in 1978, taking part in the Vancouver Festival of Choirs Concert held at the Orpheum Theatre.
Timbre! was also selected to sing with the Choirfest Choir for Expo '86. They took part in the opening ceremonies performing under the directorship of Bruce Pullan with Rupert Lang playing organ. On several occasions Timbre! has been selected to be a core choir for Chorfest which included working with John Rutter in 1991 in Victoria.
The following year, under the auspices of the BC Choral Federation, Timbre! President Shirley Jones-Koers organized a highly successful Chorfest 87 in Port Alberni which was attended by over 460 singers from every corner of British Columbia. Conducting the adult choir was Jon Washburn with accompanist Eric Hominick. Diane Loomer was in charge of the youth choir with accompanist Patricia Miller.
The highlight of the choirs history was the invitation from Bruce Pullan to perform in the First Canadian Choral Celebration at Carnegie Hall in New York on July 8, 1995. The choir performed five pieces under the direction of Patricia Miller and then joined six other Canadian choirs for two massed numbers, conducted by Bruce Pullan.
In 2010, Timbre! was very honoured to perform at the Olympic Torch Ceremony in both Port Alberni and Tofino.
In January, 2011, Patricia Miller, musical director of Timbre! from 1983 to 2016 was awarded the Amy Ferguson Award by the British Columbia Choral Federation for fostering outstanding vocal practice in British Columbia's choral community.
In November 2014, Timbre! travelled to Comox to participate in the inaugural Choral Valley Festival along with many other mid to North Island Choirs. The afternoon was a resounding success with adjudicator Dr. Adam Con offering very positive feedback on each choirs performance.
On November 29, 2015 Timbre! joined the Village Voices of Qualicum Beach in a joint concert at Knox United Church in Parksville entitled "Music, Lead the Way". Each choir performed several spirituals and a few Christmas carols and then joined forces to perform three mass choir numbers.
Two members of Timbre! have been honoured by the BC Choral Federation. Shirley Jones-Koers received the Willan Award at Chorfest '96 in Vancouver. This award recognizes an outstanding contribution to choral music in British Columbia. Shirley was very active in the BC Choral Federation and was on the founding board and served as a member-at-large from 1979-1982. Tenor Philip Wallbank, received the Herbert Drost Award in 2004 for distinguished service and support of choral music in B.C.
Timbre! began very early on to establish the tradition of presenting one or two day workshops for choir members with well-known choral conductors, including, Jon Washburn, Diane Loomer, Bruce Pullan, Linda Spevacek, Janet Warren, Geordie Roberts, James Fankhauser, John Trepp and most recently Larry Nickel.
Timbre! continues to give back to the community and has performed Christmas carols at the Rollin Art Centre's Celebration of Light in support of the Community Arts Council.  As this event no longer takes place, the choir invites the Community Arts Council to sell raffle tickets in the lobby during our performances to show our support.  The choir now participates in the Harbour Quay Light Up night at the end of November each year which is a fun family event for one and all.